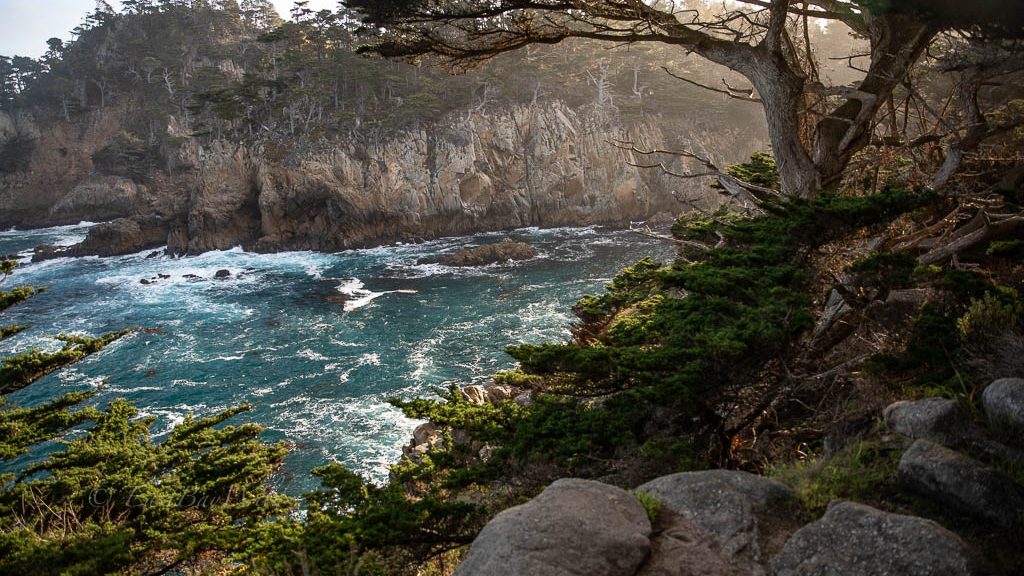 Point Lobos State Natural Reserve
Point Lobos Essential Info
Difficulty: Easy
Length: 4.7 mi loop around the reserve
Time: 3 hours
Cost: Free along Highway 1, $10 per vehicle inside
Dogs: no
Bikes: no
Hours: 8am – 5pm
Website: http://www.parks.ca.gov/?page_id=571
Coastal Views
Getting There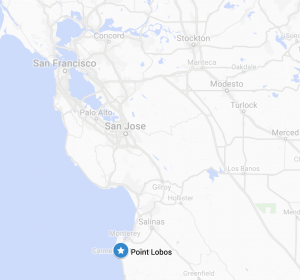 The entrance to Point Lobos is off of Highway 1, south of Monterey. To get there from the Bay Area:
Take 101 South towards Los Angeles
About 16 miles past Gilroy, take 156 West.
Take 1 South
After Carmel River State Beach, look for cars densely parked in parallel along the highway.
The entrance to Point Lobos will be on the right hand side.
Trails
Point Lobos is all about the shoreline and the best hike is to start on the north side near Whaler's Cove (which has limited parking) on the North Shore trail. The trail transforms into different ones, following the coastline to the end of the park's southern border. From there, you can return to Whaler's Cove by way of the Southern Plateau trail.
If parking at Whaler's Cove is full, don't fret. The trail roughly follows the interior road and the parking lots. Just find an open parking spot and begin your hike along the closest coastal trail.
If you are walking into the park from Highway 1, take the Carmelo Meadow trail after the entry booth to get to Whaler's Cove.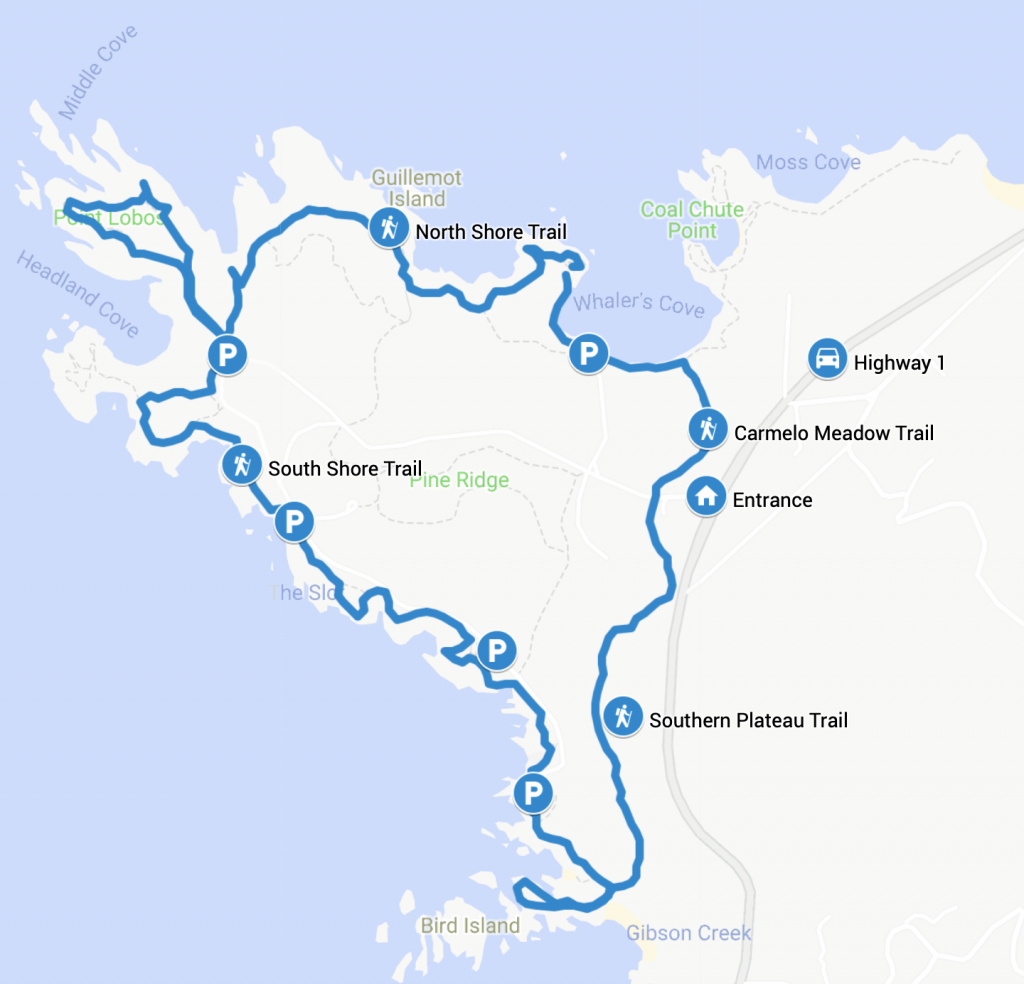 North Shore and Cypress Grove Trails
The northern side of Point Lobos offers views of craggy shoreline, waves pounding into rocks.
In stark contrast, the coves offer protection from the open ocean. Sea otters and seals can often be found resting in these areas or foraging for food.
South Shore Trail
The southwestern side of the reserve flattens out and the trail descends to the beach. Massive colonies of sea lions roost on the offshore rocks lending a unique odor to the experience.
The beaches offer opportunities for tide pooling. Look for anemones, limpets, snails, crabs, sea urchins, and even small fish in the pools left over by the low tide.
Following the south shore trail offers an unexpected geologic exposé in the form of the Carmelo Formation. See an in depth description of the rocks of Point Lobos here.
Bird Island Trail
At the bottom end of the reserve are China Cove and Bird Island. Descending to the beach at China Cove is prohibited whenever harbor seals are nursing their pups there. Bird Island is home to nesting cormorants and other sea birds.
Wildlife
Red Tailed Hawk in a Monterey pine tree

Sea otters enjoy the calm coves

Snowy Egret

Snowy Egret


Harbor Seals

Harbor Seals
Tidepools
Sea Urchin

Limpet

Sea Anemone and hermit crabs

Related Parks and Places