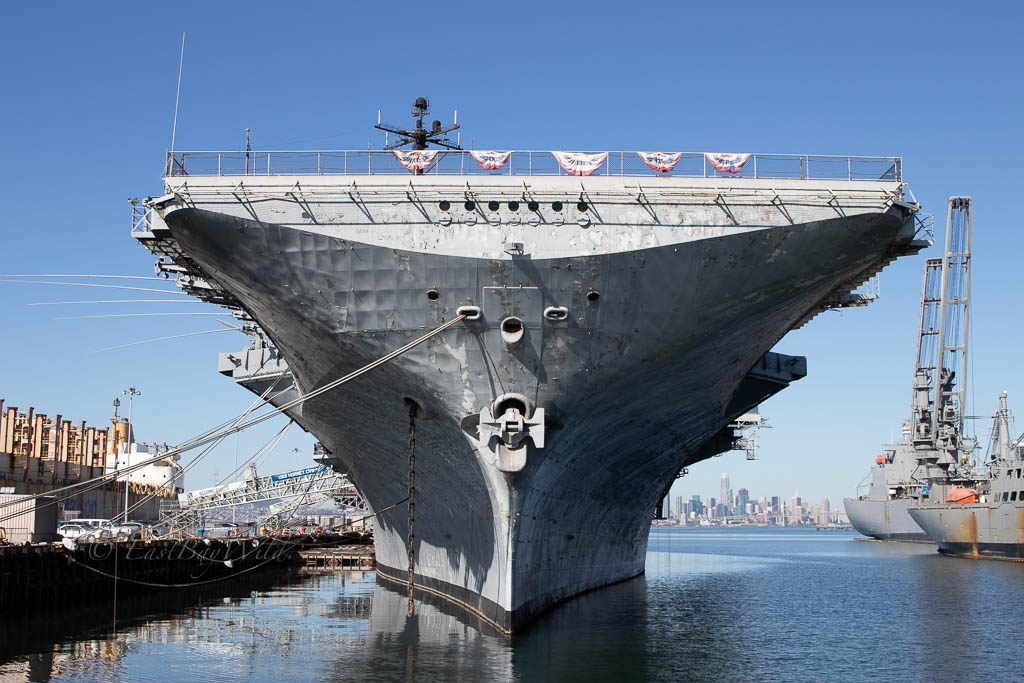 USS Hornet – Fleet Week Preflight
While the navy base on Alameda has been closed since 1997, the USS Hornet WW II aircraft carrier and museum has carried on the Navy's presence. With Fleet Week approaching it provides a great opportunity to take a peak into aircraft carrier life (it had a crew of ~2500 people while current Nimitz class carriers have 2x) and catch great views of the San Francisco skyline.
USS Hornet Essential Info
Address: 707 W Hornet Ave, Pier 3, Alameda CA 94501
Phone: (510) 521-8448
Open: 10am – 5pm daily
Cost: $20 Adults, $15 Seniors and Military, $15 Students, $10 Youth, Free 6-under
Website: https://www.uss-hornet.org
Background
Starting life as a WW II aircraft carrier, it spent nearly 30 years in active Navy service. After a storied record throughout the Pacific, the ship ended its final years aiding NASA as the primary recovery vessel for the famous Apollo 11 and 12 moon landing missions.
The Ship
The ship is formed by several accessible decks. The wide open flight deck is almost like a steel floored soccer field. The 2nd deck below is a maze with narrow hallways, low ceilings, and sealable doors every 20 or so feet. All kinds of nooks and crannies ( with special exhibits ) lie waiting to be discovered.
Hangar Deck
The entrance ramp leads into the hangar deck where planes were stored and maintained. It now houses various historical aircraft, NASA Apollo and Gemini space program exhibits, the gift shop, and a virtual simulator ride.
Apollo AS-202 capsule

Flight simulator ride in the hangar deck

UH-34D Seahorse helicopter
2nd Deck
Below the hangar deck are the main living spaces. With so many people on extended missions, these ships formed miniature cities complete with post office, chapel, and hospital facilities all crammed into a large metal hull.
Chapel and library

Kitchen
Flight Deck
Catch the breeze and gaze on the San Francisco bay from the flight deck.
Unparalleled views of San Francisco

The island and flight deck

The island

Anti-Aircraft guns

F-14 Tomcat on the flight deck
The Island
Situated on the flight deck, the Island houses the captain's quarters, bridge and command center for the ship. Access is allowed only through free tours that are conducted throughout the day.
The island's array of sensors

The helm
Additional Info