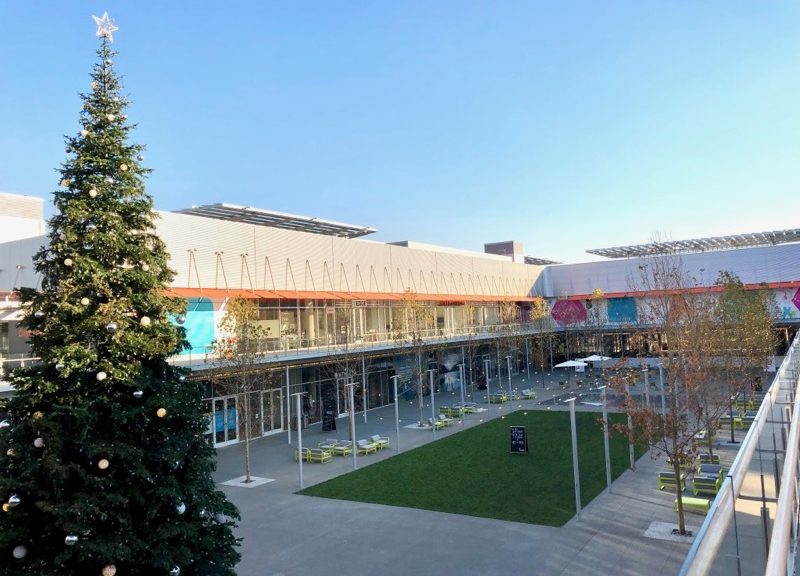 San Ramon City Center opens!
A little over a year ago, I posted about the beginning of construction of the San Ramon City Center along Bollinger Canyon Road in San Ramon.
This past Thursday, the center opened its doors, just in time to kick off the holiday season.
Kicking it off
While they're stilling putting in the finishing touches, the center has opened with an inaugural set of shops including:
Athleta
Starbucks
Pottery Barn
Alys Grace
Boba Guys
Candle Delirium
Fieldwork Brewing
M by Maggie Rizer
Neeko
On the Edge
Trader
West Elm
Williams Sonoma
 the piece. store
On November 15th, "The Lot" movie theatre, restaurant, and bar will open as one of the anchor stores. In December, Equinox, an upscale gym and yoga fitness center, will open its doors. The Slanted Door, the renown Vietnamese fine dining restaurant out of San Francisco, will open next door shortly after.
Reshaping San Ramon
In the age of Amazon, the mall and retail space is transforming. What once was anchored by department stores like Sears, Macys and Nordstrom is now anchored by activity destinations like movie theaters and fitness gyms.  It's no wonder that Equinox and The Lot are helping to launch San Ramon's cultural hub.  Supporting them, over half of the initial tenants are restaurant or bars.
Just blocks away from San Ramon's new City Hall, Community Center,  and renovated library off of Bollinger Canyon Road, the City Center adds modern facilities for suburban residents keen on sensory delights.
Nearby Bishop Ranch office buildings and the Iron Horse trail should provide an ample proximity to peripheral foot traffic. As part of the opening, Bollinger Canyon Road has been widened, but fear remains among residents that the area will become crazily congested during weekday commutes. In the meantime, construction vehicles are moving onto the adjacent lot for phase 2 of the city center which will feature a hotel and apartments.
The next few months will be exciting to watch as the rest of the shops come online. Like other large development projects such as the Livermore Premium outlets, the City Center has the opportunity to bring envious new experiences and the crowds that flock towards them. I for one can't wait to try out The Slanted Door, Fieldwork Brewing, and later next year, Hiroshi Ramen!
Related